Add Color with Inexpensive Metal Roofing Options (to Dramatically Change a Basic Model) – By Kim Rak
Every time I am immersed in the Jamaica Cottage Shop's photo albums (50,000 plus pics to eventually glean), methodically organizing them by categories, I start to see sub-categories that I really want to show off. Hence, the article on metal shed roofing options. It is a simple way to change a basic design, and it's only a nominal difference in price (see select an option for pricing examples) to change from the standard evergreen to an interesting (beautiful) autumn red, matte black, or any of the other 12 colors available.
Domenic Mangano's (Jamaica Cottage Shop's founder) initial aesthetic 20 years ago, had a folky, rugged quality, with plenty of artsy details, and dramatic spots of color. As his designs became more refined and streamlined over the years, I noticed the color and artistic details remained, giving his designs (which already fall into the unique category with the prefabricated kits and extensive line for tiny cottage living) an artisan edge, which many companies fall short of. I noticed that often, the simplest addition, a burgundy roof, a tudor brown roof, or even a mix of two colors really changes the whole outcome.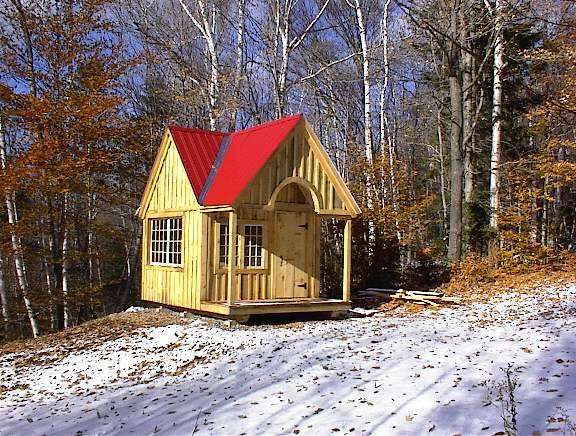 When I wrote about the Greenhouse last week, I made several notes to explore the many inexpensive roofing options and more that make this tiny house company so unique, and easy to use. In the coming weeks, I will be continuing to share the way some simple changes from the standard, can optimize your landscape. Look forward to reading more about the other shed roofing options you can choose from, the selection of hand forged iron hinges (from local artisans), and how amazing their cedar flower boxes can make your home look.
When I submitted this article for review, Domenic suggested I add some more educational/resource information to further help with roofing questions. Good idea!
So, here's some more important information about inexpensive roofing options. The screws used to mount the metal panels, have rubber gaskets (that are made in the USA) that create a self sealing finish in combination with the metal threads. The paint on these roofing screws match the panels.
Another important difference in shed roofing options he wanted me to point out, is between the standing seam roof and the corrugated roof.
Via Wikipedia –
Standing Seam Metal. This is a metal product that comes in rolled form and in various widths. The material is "seamed" together using a special seaming tool that is run vertically up the panel to seal the joints and prevent water intrusion.
Corrugated galvanized steel. This describes the original product that was wrought iron–steel sheet coated with zinc and then roll formed into corrugated sheets. This product is still used today in most areas. The newer push of modern architecture and "green" products has brought these products back to the foreground.
Let's face it, these handcrafted buildings are not the everyday shed you see at your local box store, yet they are often more affordable, and note: this company is all in-house staff, guaranteed to make your experience a good one.
Add Color with Inexpensive Metal Roofing Options (to Dramatically Change a Basic Model) – By Kim Rak