If you choose to purchase a frame only kit you will need to gather roofing materials to install once the frame is built. Many homeowners will also need to consider replacing their roof during their residence. When the time comes to replace or install a roof on a small prefab cabin, a portable tiny house on wheels or cottage style shed, there are many different options you can consider. As well as finding a durable and attractive looking material, you should also consider the installation cost, the impact it has on the environment and how much money it saves. For some inspiration, here are 5 unusual types of shed roofing materials that are beneficial to the environment.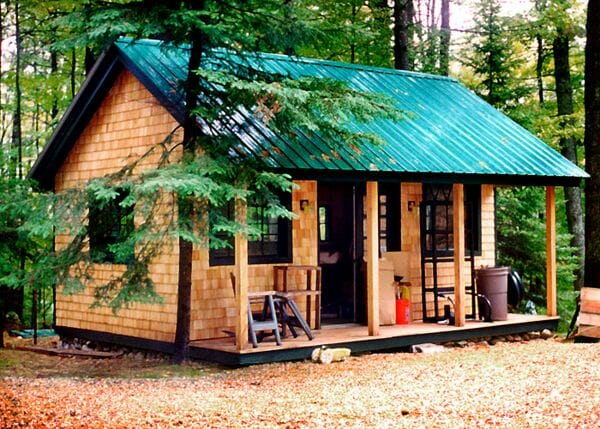 Corrugated Metal Roofing
Metal roofing consists of vertical panels. They are extremely durable and cost effective. This is because metal roofing is very resistant to a variety of weather conditions. Heavy rain and snow slides right off. Metal does not catch on fire, and it can resist strong winds. Some people remark that there is nothing better than hearing the pitter patter of rain during a thunderstorm.
Jamaica Cottage Shop uses a 29-gauge metal roofing, on most of our prefab sheds and cottages. The affordable panels are very easy to remove and replace if you are in the market to update your post and beam cabin. Metal roofing panels may be purchased from us for existing structures, contact us for details.
Green Roofing
Green roofing is also known as a 'living roof.' They are an effective way to reduce the cost of cooling and heating in your home, while providing a habitat for local wildlife. This method consists of a layer of vegetation placed on the top of the functional layers. Installing a green roof is extremely beneficial in urban areas and for environmental conservation. This is an eco-friendly and money saving method. It is strongly recommended to work with a contractor when installing this shed roof type to ensure the structure can handle the extra weight.
Recycled Materials
When roofing your cabin kit or repairing an existing roof, you should keep the environment in mind. One of the most unique ways to add roofing is by using recycled and upcycled materials. There are extremely unique ways to finish off your home but can look great and work effectively when done properly.
Reclaimed building suppliers, salvage stores, and barn sales are valid venues to find repurposed roofing materials.
Rubber Slate Roofing
Rubber slates have a natural appearance and can be fitted effortlessly. This is because they can be cut with a knife. They can last up to 100 years and are less likely to crack compared to asphalt shingles. They are better suited for drier climates that don't get much snow or hail. It can also be difficult to find professional roofers that have been trained to install this material to the roof of your home.
Solar Tiles
Solar tiles are advanced solar collectors that can be integrated into the extremely common asphalt shingle roofing material. They are especially good for homeowners who live in sunny areas. Solar tiles will generate green and renewable energy for your home. They look much better than typical solar panels, which are perfect for those who forbid them. However, they are a much more costly option.
Taking the time to research your new roofing materials is essential. By doing so, you could save money in the future on replacement and running costs of your home, while being more efficient and kinder to the environment. You should also recycle your old roofing material and thoroughly research your roofer before hiring them.