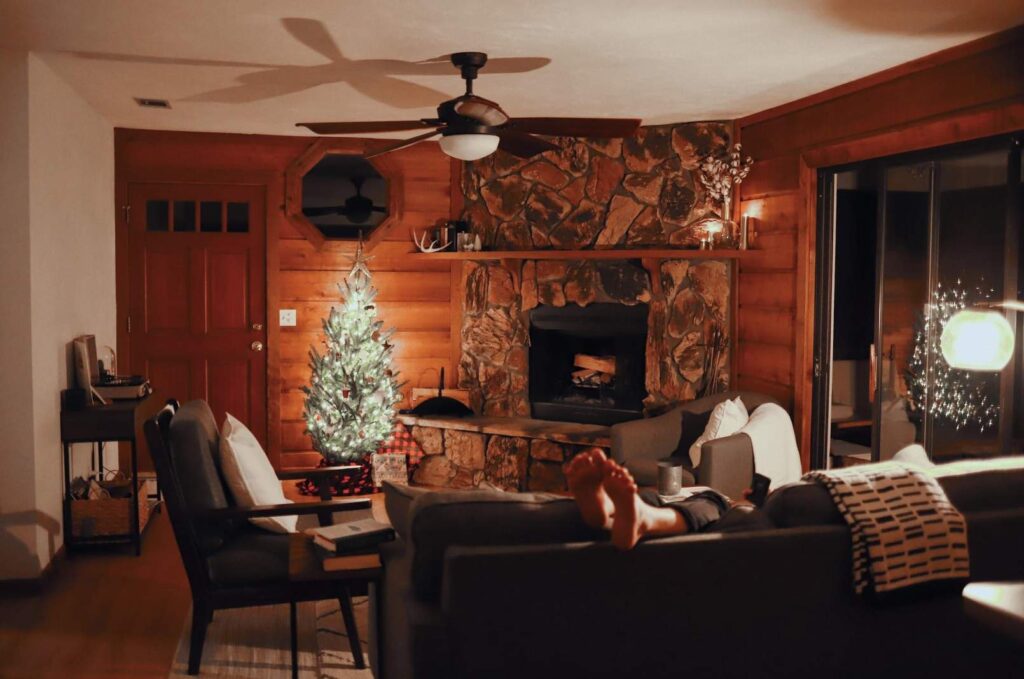 Photo by Amy Humphries on Unsplash
When done right, a rustic interior design can make any home feel like it's a little log cabin nestled away in the country or on the side of a mountain – which is why this interior approach is becoming increasingly popular year to year. Join us as we offer up all of the interior inspiration you need on how to decorate a rustic living room with 5 simple ways you can turn your space into your very own retreat
1. Expose Natural Features
If you're lucky enough to have any natural features in your home, this is the first step towards creating a living area that oozes rustic charm. For the walls, strip back any wallpaper or hanging furnishings to expose the natural bricks underneath. This is a perfect way to give your room a completely different look at next to no cost. If your property has wooden beams, make sure these are on show, too. Remove any old finish from the wood, buff up the beams and then finish with a natural beeswax stain.
With the walls taken care of, it's time to turn your attention to the floors. While carpet might be associated with helping to retain warmth, it simply doesn't have the unique qualities you'll find with exposed wooden flooring – which often has natural blemishes and defects that add character. This will offer the naturalistic vibe you're looking for and you can add warmth with fluffy rugs to achieve that soft feeling underfoot.
2. Update The Fireplace
Most households already have some form of fireplace in the living room – it's just about getting yours to fit the theme you're going for. Of course, an open log burner would be the perfect touch for your countryside chic vibe, but if you're working with an electric fire or no fire at all, there are still ways you can add warmth and charm here. Simply stack old books or pillar candles where your fire should be to create a completely different look.
Turn your fire into a focal feature with beautiful patterned fireplace tiles to create the epitome of a cozy, rural interior. By updating the border or hearth with floral or Victorian tiles, you can draw attention to this often overlooked part of the room. If the fire has a surround, sand this down to bring the wood back to life or consider having a go at creating your own.
3. Choose Cozy Furniture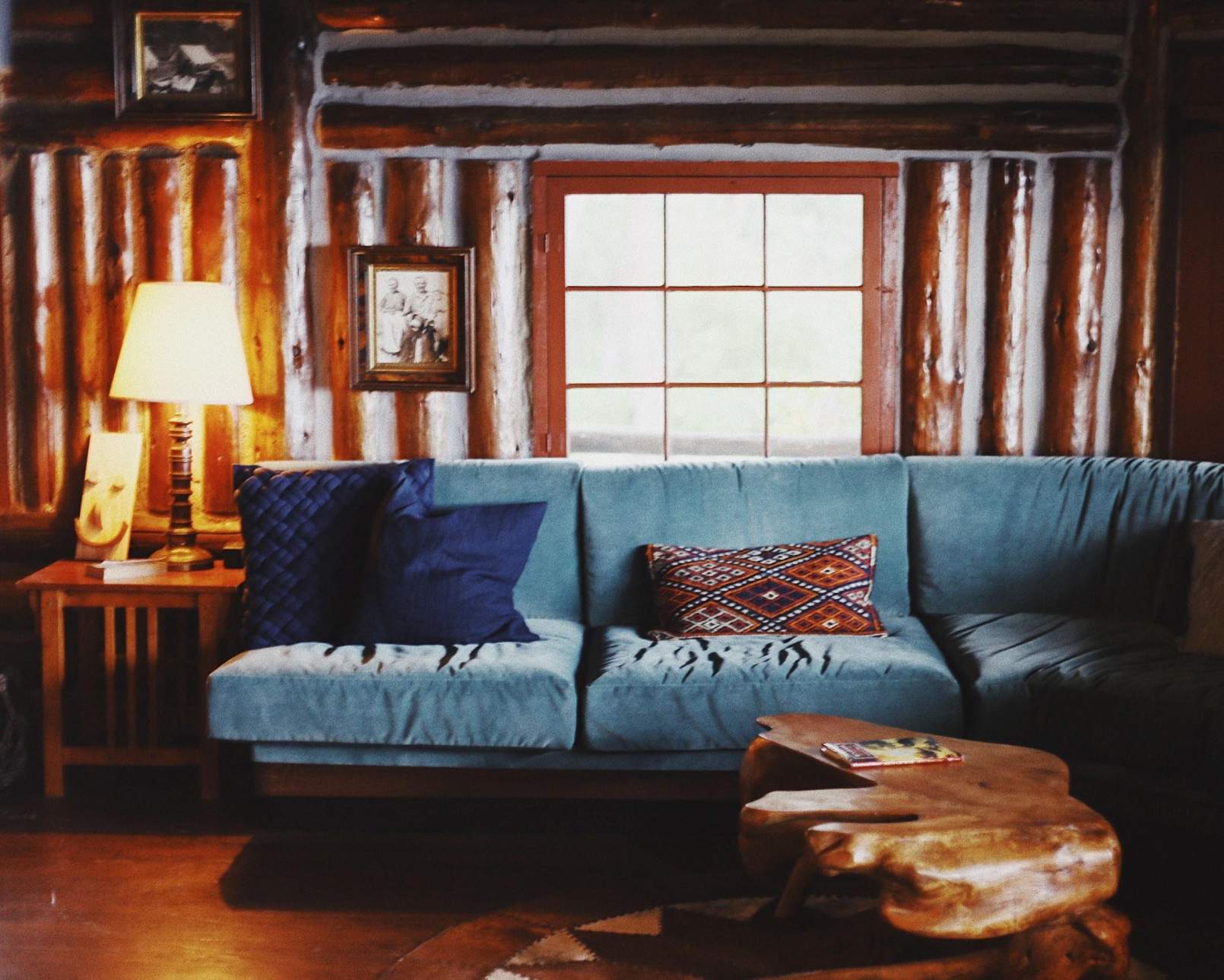 Photo by Taylor Simpson on Unsplash
Your furniture choices can make all the difference when it comes to really nailing that mountain lodge interior feeling. While wooden sideboards and faux fur rugs are the perfect added extras, your chairs and sofas are where you'll have plenty of chance to create an irresistibly cozy set up. If space is on your side, the bigger the sofa, the better. This will allow you to curl up and doze in front of the fire on a stormy afternoon, providing all the comfort of a holiday lodge.
For your chairs, what better way to achieve a peaceful and tranquil room than by creating your very own reading nook? Choose a corner of the room where you won't be disturbed by people passing to get to the kitchen and set up a reading space. Choose a chair and footstool that allow you to adopt your ideal sitting position, cuddle up and prepare to get lost in your favorite novel.
4. Add Texture With Fabrics
To add depth to your room, throws and scatter cushions are the perfect accompaniments and will make the room feel truly homely. Both practical and stylish, soft furnishings and blankets can be used to help keep you warm when the chillier weather sets in, but will be just as attractive when draped across the back of the sofa when the room isn't in use.
Another way to help retain the room's heat is to ensure your windows are well insulated, and heavy curtains and window dressings offer an ideal way to achieve this. Thick fabrics in rich colors like deep reds or burnt oranges are a sure-fire way to emulate warmth and are guaranteed to help you feel instantly snug.
5. Natural Materials for Finishing Touches
To add the finishing touches to your countryside cabin living room, you'll want to experiment by adding a splash of your personality into the room with accessories – and in keeping with the theme, what better materials to choose for your trinkets than wood, iron and stone? A little creativity will see you a long way here, and help you turn your room from a carbon copy of every other rustic interior into a bespoke, personalized room that's undeniably all yours.
From natural wooden photo frames and room dividers to brass bottomed lamps and iron legged tables, these little extras are what make up any room – and when you choose the right materials, they'll be the perfect way to cement the overall aesthetic you've worked so hard to curate. Pop a few rattan baskets beside the sofa for storage and some handmade coasters on the table top and your look will be complete.
With some ambient lighting thrown in, you now know the steps to take to turn your living room into your very own rustic retreat. Enjoy every minute of getting creative and designing your very own slice of paradise.
Author bio:
Suhayl Laher works at one of the UK's largest independent tile distributors and retailers – bringing design inspiration to homeowners, architects and developers.