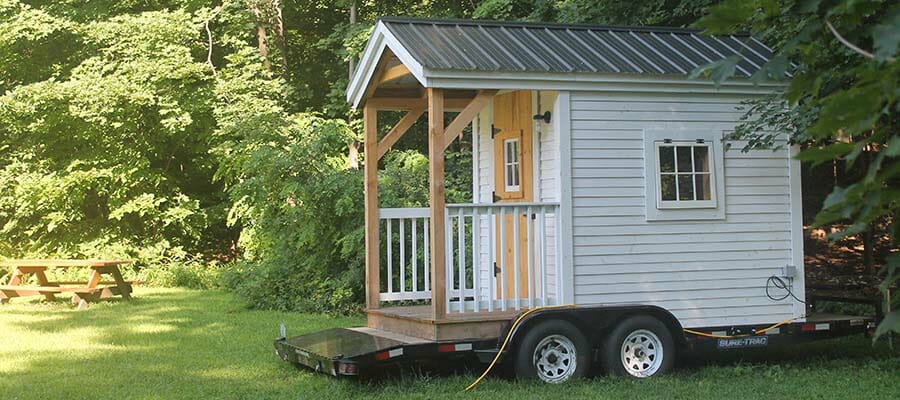 Don't skimp on the foundation when building a tiny home on wheels, is a common theme you hear from builders. It is typical advice when building a small home that is often repeated. Set a budget that will give your project the strength and longevity you expect from such a large investment. Building tiny houses on wheels (THOW) begins with picking the best trailer foundation for your project. Here are five key points to consider when selecting a foundation for building a tiny house.
#1 SIZE
When determining the size of the trailer there are several factors to keep in mind. The larger your tiny house the more weight you must contend with. Weight is only a concern if the home is moved, even if it is only moved once this is still a factor. Jamaica Cottage Shop offers many sizes most commonly stocking 8×16', 20' and 24' lengths. Read on as these key factors should be understood before anyone undertakes a small home building project on a trailer.
#2 WEIGHT
Weight is the main concern when building a tiny house on wheels. A trailer registered in the United States under 10,000 lbs. can be towed by a common ½ ton truck by anyone with a valid driver's license. If the overall gross vehicle weight of the trailer is registered at 10,000 pounds or higher certain criteria should be considered. Confirm with your local state, but basically over 10K the trailer can only be moved with a driver that holds a CDL or commercial driver's license. This is a grey area in laws in many forms, however if there is ever a problem that enables scrutiny the fault most likely will come down to the improper licensing. It is always strongly recommended to keep any THOW under 10,000 lbs. or plan to have it professionally moved.
The overall weight of the build should never exceed the gross vehicle weight of the trailer, understanding trailer axles is the start. Often a 3,500 lbs. dual axle trailer is common, which the manufacture will rate at roughly 7,000 lbs. gross. This means you take the weight of the trailer before beginning to build and subtract from the gross. The home cannot weigh more than this number. Take the empty trailer to a scale before and after a build to confirm. The trailer ratings come from several factors if not adhered to will fail with fatigue. The steel frame, brakes, axles and tires must all match the overall rating for the weight of the build. Anyone of these could fail at the most inopportune times.
#3 102" WIDE 13'6" HIGH
One hundred two inches or eight foot six inches wide is a critical number anyone looking to build their own tiny house on wheels must understand. In the United States a trailer width must be no wider than 102" wide. Any load transported on public roads wider than then this will require a special over dimensional transportation permit. Commonly referred to as a wide load. Small homes such as a historical mobile home or most recently called a park model are built up to 16' wide. No doubt you have seen these monsters traveling over the road taking up the entire lane being escorted by one or more vehicles sometimes even a police escort. The height for a legal load is 13'6" this is a must as any vehicle or trailer transported over the road above this height is in danger of hitting utility lines, bridges and low hanging trees.
#4 BALANCE
Balance is critical and must be considered when building a trailer that is intended to be an over the road registered vehicle. Two things that should be considered here, the proper tongue weight which is the amount of downward pressure that is put onto the towing vehicle. The tongue load transfers weight from the trailer to the towing vehicle which creates traction and stability. The other is to center as much weight over the axles as possible. Evenly distributing weight is the concern, many builds tend to skirt the limitations of the trailer by extending wood frames beyond the trailers steel frame. The most common mistake I see is extending an overhang or porch off the rear of the trailer. This causes great concern with too much weight hanging off the rear of the trailer which causes the entire load to go out of balance. Once a certain speed is reached this will feel squirrelly, a side to side motion will be felt. If not corrected by lowering speed and regaining control it will cause the entire load to sway violently. In worst case scenarios the entire truck and trailer can jack knife at high speeds. This causes the vehicle, trailer or both to tip on its side, a wild and scary erupt stop. It is highly recommended that you take balance into consideration if the home will be transported at speeds over 50 mph.
#5 CORROSION
Dry rot and rust are the common enemies that wreak havoc on the tiny home left out in the elements. Critters and insects are a concern, but mother nature is by far the worst enemy to a tiny home. When choosing a trailer never opt for a used trailer, it is not recommended to skimp on the foundation of a tiny house. You can upgrade, replace and improve many parts of the home after it is built but the trailer is not one of them. It will be more affordable to rebuild the home than to try and swap or fix a trailer that has a broken frame, axles or other problems. The best recommendation here is pick a light weight strong and new trailer and have it additionally treated before beginning to build. Another bit of advice is to run additional wires the length of the frame for LED lights high on the house. It is always favored to have three center marker lights along with the brake and turn signals that work in conjunction with the ones on the steel frame.
See more articles like this at JamaicaCottageShop.com
March 28th, 2019
By Domenic Mangano Founder of Jamaica Cottage Shop, Inc.