Kitchen appliances use much energy like gas and electricity, so it's necessary to choose energy-efficient devices. Modern appliances are beneficial because they are not only durable but have extra features to save energy. They also save time and add a futuristic touch to your kitchen.
Tiny House Kitchen Appliances You Need
It's crucial to invest in your kitchen; various appliances are a must-have even if you're not remodeling your kitchen. Even though you're sure to find awesome selections of kitchen appliances, we'll go ahead and mention 10 that you must have in your tiny house or cabin.
Air Fryer
An air fryer is one of the best small kitchen appliances to own. Unlike traditional frying, this appliance allows you to cook food with excellent texture and taste but with less oil. Air-fried food is also healthier than deep-fried foods because it contains less fat.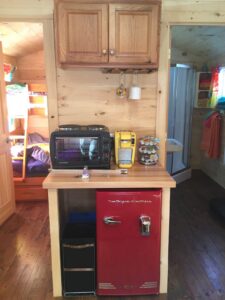 Smart Coffee Maker
If you're looking to buy modern kitchen appliances, a smart coffee maker should be on your list. You can make your coffee before you wake up or while in bed through your smartphone.
Steam Oven
A steam oven is an upgrade to a retro kitchen appliance and uses dry heat and steam. This is an excellent addition to your kitchen if you want to prepare healthy meals. Steamed food retains more vitamins, moisture, and minerals than fried or boiled food. These ovens come in toaster oven sizes, and some also have an air fry option. For tiny houses, any appliance that serves multiple purposes and comes in a small footprint is a perk.
Mini Refrigerator
Simplify your kitchen with a smaller refrigerator. Minimizing clutter and waste in your tiny house is imperative. Mini or apartment sized refrigerators will ensure you have plenty of cold and frozen food without overdoing it. Money will be saved on energy and food as you become mindful of your limited food storage space on grocery shopping trips.
Portable Blender
This is one of the must-have small kitchen appliances; it's compact and easy to take anywhere. It is convenient, especially if you're busy, and it allows you to enjoy your smoothies wherever you go.
Food Processor
Food processors are found in almost every kitchen because of their versatility; they can slice vegetables, chop meat, grind nuts, etc. All food processors are different and designed for various functions. You can purchase food processors with a kitchen appliances package to save money.
Electric Grills
If you've always wondered how to decorate a kitchen with black appliances, you can invest in a black electric grill. It fits in your kitchen and allows you to grill meat and veggies. They are safe to use indoors because they don't rely on charcoal or gas that produce smoke and fumes. Electric grills are also ideal because they are environmentally friendly and use less energy than charcoal and gas grills. Plug in electrical grills can be stored away freeing up counter space when not needed.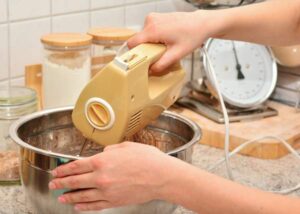 Hand Held Mixer
If you're a cake lover, you know that a mixer is necessary for your kitchen. You can use it to mix cake batters and cookie dough; it allows you to make smooth cream and perfectly blended frosting and whipped cream. It is also excellent for emulsifying and mixing meat for foods like sausages. A hand held mixer can fit in a drawer.
Drop Scale
A drop scale can't miss out on any must-have kitchen appliances list; it saves time and makes measuring and weighing easier. Modern drop scales have useful features, such as an app that allows you to browse through many recipes.
Rice Cooker
Although most people enjoy eating rice, some don't know how to cook it perfectly; most times, it is under/overcooked. A rice cooker will cook any rice: Basmati, brown rice, white rice, jasmine rice, etc to perfection. It also holds your meal at the right temperature if you're not ready to serve; you don't have to keep an eye on it. As a bonus many rice cookers come with a time and space saving vegetable steamer that can be placed on top.
Conclusion: The kitchen is an essential room in your home, and even if you are not remodeling, you can invest in a few necessary appliances. They not only make life easier, but they save time, energy, and make your kitchen stylish.
Author's Bio: Nellie Rodriguez is a passionate writer who aims at enlightening home-owners to make the right decision when choosing home appliances and decorations. She researches about old and new styles as well as how technology affects home-owners. She has been in this industry long enough to understand its complexity, trends, and needs.